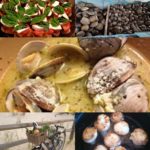 Place an order between April 30th through May 26th and your are automatically entered to win!
Experience a taste of Authentic Jersey Shore Fare!
Afternoon Seafood Bake for 4!
Sit back, relax and enjoy while the taste of LBI is prepared for you beach homes back yard!  Scallops direct from the boats of Barnegat Light, Little neck clams from Barnegat Bay, Jersey Tomato's, Corn & Peaches!
Your Exclusive Seafood Bake :
1.5 1bs of  seared U12 Barnegat Light Scallops, 75 sauteed little neck clams, Jersey Corn on the Cob,Tomato mozzerella caprese on top of crostini, Grilled Peaches drizzled with Balsamic glazed and topped with basil.
Value:  $200.00
*qualifed orders are placed between April 30th through May 26th
Saturdays are not available