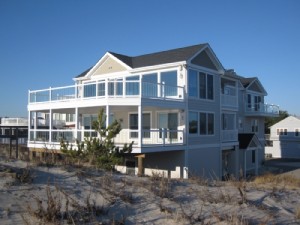 Owner Provided Linen Program
In the past, guests who stayed at the Jersey shore had to pack up their linens, towels, beach equipment and bring them down the shore. , However, guests' expectations are changing. Today's guests want a "hotel-like" experience, they don't want to schlep all the amenities the home did not provide.
The weekly changeover short cleaning window it is almost impossible for homeowners/cleaners to clean all the linens utilized by the previous guests. Even if time was not a problem, would they be washed at commercial sanitation standards? Another consideration is the loss/damage rate of an avg of 25%. Blood, Makeup, Sunless Tanning lotion can make a sheet set incomplete, towels unpresentable.  Our Simply Covered Service takes the headache out of the logistics of offering linens to your guests.
Linen Referral Option
If you do not wish to offer a service program for your rental, you can simply refer guests to our website and they can order a custom package based on their needs.
Looking further enhance your guests' experience? VR amenties & products are available for purchase at Our Vacation Rental Products Marketplace. (hyperlink to VacationRentalProducts.com
DISCOVER what updates can
Increase revenue,
Create great reviews and
______________________________________________________________________________
The maintenance and care of your home is the number one reason for complaints by homeowners and tenants alike. Through personal detailed attention and follow-through Sand-Bucket offers solutions to a historically maddening area for homeowners, with optional levels of service. These homeowner services help eliminate the hassles of managing summer rentals, while providing our owners even better financial benefit.
Our purpose is to add on to the local Real Estate agency basic service of listing , showing and contracting a rental agreement for your property.